So with all the hype around the iPad dying down I thought I would do a bit of a round up on some of the coolest apps built for musicians, most creative uses of the iPad by musicians and talk about some of the future plans for the iPad that might benefit musicians.
The Seven Coolest Ways Musicians Can Use the iPad
1. Mixing songs on the iPad using it as a Midi Controller
There are several apps available, such as MidiPad that allow you to use your iPad as a midi controller – to take control of the faders in your favourite sequencer and mix different channels in real team using the on-screen faders, buttons and knobs. Considering most midi controllers start at not far off the price of an iPad, this is a really useful function for recording musicians.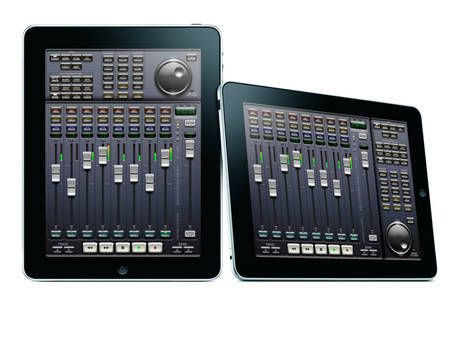 2. Dj'ing on the iPad
There are a variety of apps available for the Apple iPad that allow you to mix music and use it for djing. I have not yet heard of any major DJ's performing a set directly from and iPad but i'm sure it has or will happen. Mixr is probably the most used app for dj'ing on the iPad – the interface simply gives you two virtual dj decks on screen and a crossfader in between that you can use to fade between the two tracks.
3. Displaying Sheet Music on the iPad Whilst you Perform
There is an iPad application called AirTurn which seems to have caught the eye of a lot of performers. The app uses a bluetooth device to automatically detect where on a piece of sheet music you are and it turns the pages for you automatically!
4. Scoring Music on the iPad
Yep! Not only can you get apps to turn the pages of your sheet music but you can write your compositions too! The leading application for this function seems to be forScore (see video below), but it appears to have all the same funky features that the leading software packages we're all used to have.
5. Writing Songs on the iPad
There is talk of Propellerhead launching a Reason Rebirth app for musicians to use to produce and mix there tracks on the iPad – it wouldn't surprise me if other music production software companies such as Cubase, and Logic followed suit.
6. Downloading and Learning Guitar Tabs
One of my favourite applications I've seen for the iPad is the TabToolkit for iPad, which allows you to search for guitar tabs, download them, and even play them back (okay, with shitty midi preset sounds – but it's better than nothing!). Also, because the playback is using midi you can pause channels, alter the speed of the track and much more, making it easier than ever to mute the drummer :-)
7. Playing with Synths on the iPad
There seems to be endless amounts of synthesizer apps on the iPad including an Electribe and a Moog!
I guess these would be really cool just for jamming out melodies but they're pretty fun to just play around on :)
Know any other cool ways musicians are using iPads? Feel free to share your stories and add to the list!
Info Source: UKDJD
Photo Credit: Scolirk